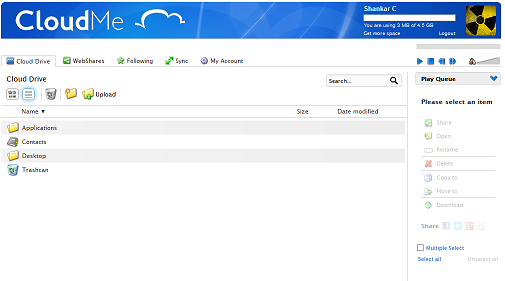 Formerly known as icloud ,  CloudMe is a cloud synchronization and backup service provider based on Sweden. It is an independent company owned by Xcerion. As a cloud sync storage provider, CloudMe has a strong focus on the European market and differentiate itself from other storage providers with mobility and media features like Samsung SmartTV support.
It offers 3 GB of free space initially which can be extended up to 19 GB by referrals. It has a file limit of 150 MB. It also has a desktop client (
link
). It also offers
WebDAV
features. It provides apps for Android, Blackberry,Windows Phone, iPhone, iPad mobile platforms and for Mac OS, Linux and Windows. It also provides public file link features  and folder sharing. It also has the facility to stream music.
WEBDAV settings : https://webdav.cloudme.com/
your_username
/CloudDrive/Documents/CloudMe